Thanks to everyone that stopped out to the other day at One Shot Coffee.  ALL PROCEEDS go to the project! Thanks to all that keep it moving!  The prints, "DAMN GIRL, YOU THICK", are limited edition 12×16 numbered and signed… $35.00 dollars.. and now ONLINE FOR SALE.  I can also ship for an extra $6.00.  I take paypal… email me at project.Gastric@gmail.com if you are interested!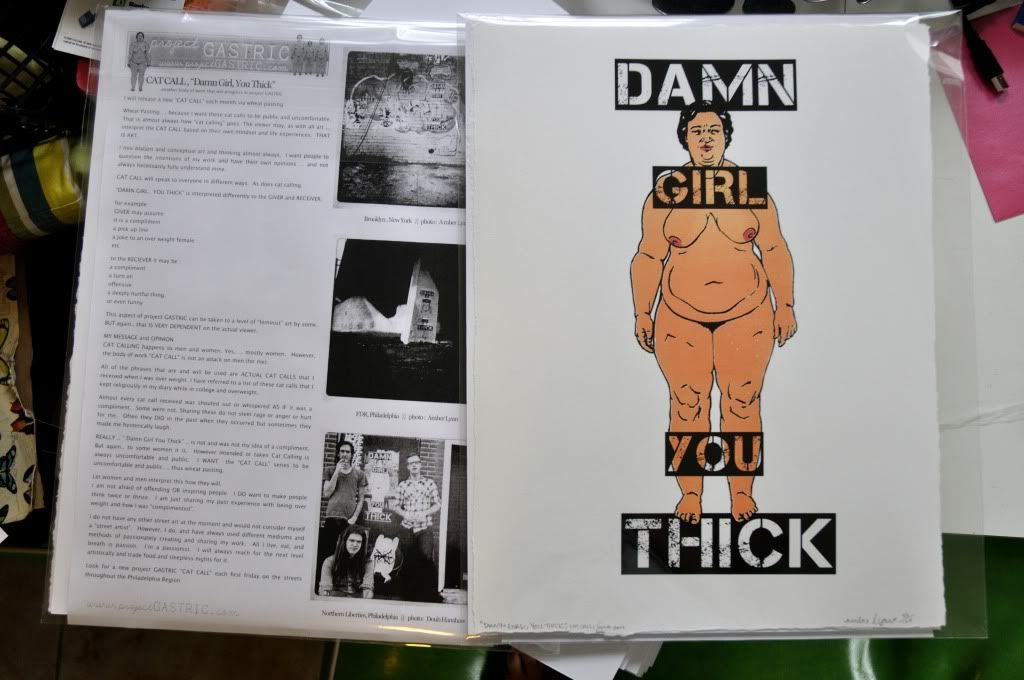 "DAMN GIRL, YOU THICK"  ||  CAT CALL  ||  12×16 limited edition signed and numbered prints  ||  amber lynn  ||  $35.00  ||  email project.GASTRIC@gmail.com
AGAIN,  I AM DROPPING A NEW "CAT CALL" WHEAT PASTE EVERY FIRST FRIDAY FOR TWELVE MONTHS.  KEEP A LOOK OUT.  <3
STOKE OF THE DAY…
Two weeks ago I got to do some wheat pasting in Brooklyn.  It was super fun.  Well my boy Joey over at FRESHMELTWATER just spotted a new Shepard Fairey paste next to mine and snapped a pic.  I'm sure that "DAMN GIRL, YOU THICK" had NOTHING to do with Shepard Fairey's placement .. but TOTAL STOKE OF THE DAY to me.